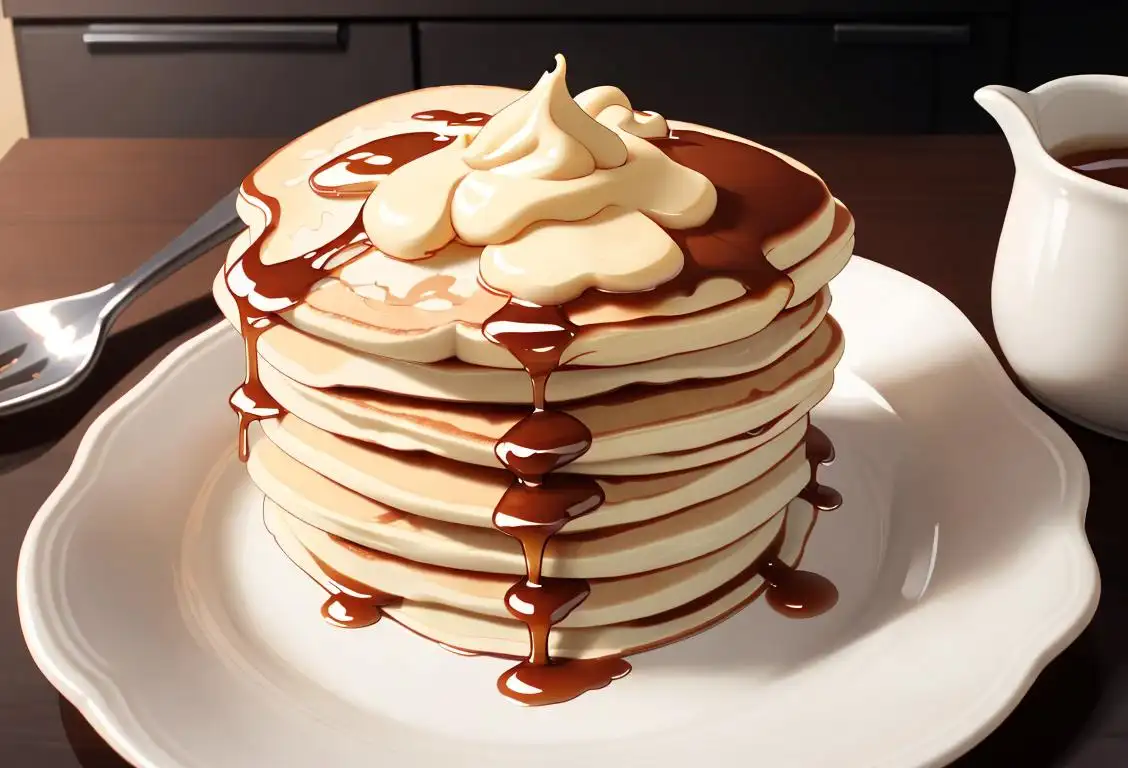 If you've got a sweet tooth and any self-respect, you absolutely adore pancakes. But did you know that these heavenly stacks have a dedicated national day? Pull up a chair, grab your forks (and probably a bib), as we unwrap the lighthearted, syrup-drenched world of National Pancake Day.
When is Pancake Day?
It's national pancake day on the 8th March.
A mouthful of history
Look-alike versions of the modern pancake have popped up in culinary records stretching back to ancient times. Our well-meaning batter-slinging forebears are to thank for the creation of the internet phenomenon that has become the National Pancake Day. With a sizzling 157784 mentions detected online, this day tends to create a stir (pun intended!) on the internet, particularly on March 8, 2016, when it received the most mentions.
Pancake Day Today
This delicious day isn't just about indulging in your favorite breakfast food. It's also a day to celebrate the comfort, joy, and simplicity that a humble pancake brings. From intense online debates about the perfect topping to pure, unadulterated pancake appreciation posts, the internet is replete with pancake fandom on National Pancake Day.
Stacking up the celebrations
While each person celebrates in their unique style, popular festivities include whipping up new pancake recipes, throwing pancake parties or participating in the most wonderful contest of them all—a pancake eating competition! The fun part is, whether your pancakes turn out as fluffy as a cloud or more closely resemble rubber coasters (no one's judging), every pancake is celebrated today!
History behind the term 'Pancake'
3000 BCE
The Ancient Beginnings
Pancakes have their origins in ancient times, dating back to around 3000 BCE. In this era, early civilizations like the Egyptians, Romans, and Greeks were already making variations of flat, unleavened breads. These breads were made by grinding or pounding grains into a flour-like consistency and mixing it with water or milk to create a batter. The batter was then cooked on heated rocks or flat stones, resulting in a primitive form of pancakes.
1st Century CE
Roman Influence
During the 1st century CE, ancient Romans made significant contributions to pancake history. Their version, called 'Alita Dolcia,' was made with a mixture of eggs, milk, and flour. Romans used a bronze plate known as a 'patella' to cook their pancakes over an open flame or stove. This method paved the way for the concept of using a dedicated cooking surface for pancakes, which eventually evolved into the modern-day griddle.
5th Century CE
Shrove Tuesday and Pancake Day
In the Christian calendar, the period before Lent starts on Ash Wednesday, called Shrovetide, became associated with pancake traditions. Shrove Tuesday, the day before Ash Wednesday, was the last chance to indulge in rich foods before the fasting of Lent. People would use up their leftover eggs, milk, and fats by making pancakes. This tradition continued over the centuries and eventually became known as Pancake Day.
15th Century
Pancake Recipes and Variations
By the 15th century, pancake recipes and variations started to appear in cookbooks. These recipes added spices like cinnamon, nutmeg, and even wine to enhance the flavor. Pancakes were also widely enjoyed during celebrations and fairs. The term 'pancake' itself started appearing in English dictionaries, referring specifically to thin, flat cakes cooked in a pan.
18th Century
Colonial American Influence
During the 18th century, pancake traditions made their way to the American colonies. Colonists adapted to local ingredients, resulting in the creation of regional pancake variations such as buckwheat pancakes in the north and cornmeal pancakes in the south. Pancake breakfasts became a popular social gathering, and pancakes became an integral part of American culinary culture.
20th Century
Pancakes in Modern Times
In the 20th century, pancakes became a staple breakfast food around the world. The convenience of pre-made pancake mixes made pancake preparation easier for households. The advent of modern kitchen appliances, like electric pancake griddles, also contributed to the widespread popularity of pancakes. Today, pancakes are enjoyed in countless variations, such as buttermilk pancakes, blueberry pancakes, and even savory options like potato pancakes.