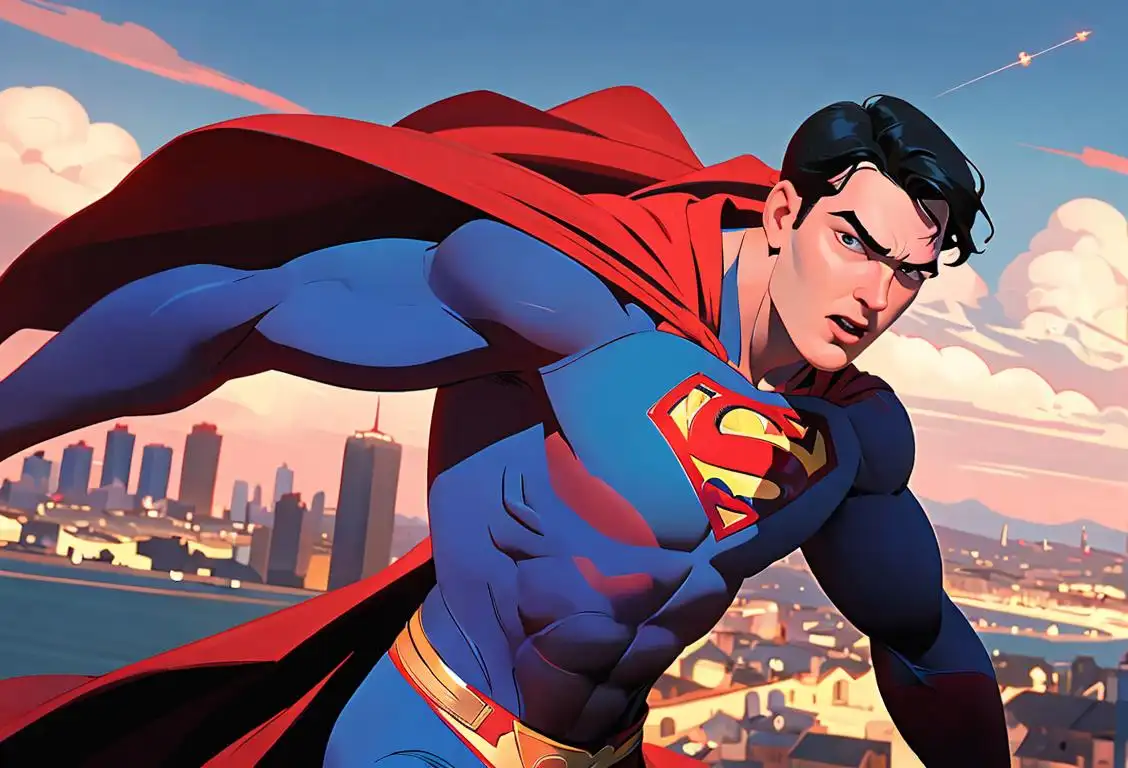 Holy smokes! It's National Superman Day! Get ready to channel your inner superhero and celebrate this iconic character who has been leaping tall buildings and fighting crime for over eight decades. From the Daily Planet to the Fortress of Solitude, this national day is sure to have you feeling super!
When is Superman Day?
It's national superman day on the 12th June.
A Hero's Journey: The Internet History of National Superman Day
On this fine day in internet history, let's dive into the origins of National Superman Day and how this beloved character has captured the hearts of fans worldwide.
Superman, created by writer Jerry Siegel and artist Joe Shuster, made his first appearance in Action Comics #1 back in 1938. This iconic character, also known as Clark Kent, was born on the planet Krypton and sent to Earth as a baby. Raised by loving adoptive parents in Smallville, Kansas, Clark Kent grew up to become the Man of Steel.
Over the years, Superman has graced the pages of countless comic books, starred in multiple TV shows and movies, and become a symbol of hope and justice. With his superhuman strength, heat vision, and ability to fly, Superman has become an enduring figure in pop culture.
In recent times, National Superman Day has gained popularity as fans come together to celebrate the legacy of this superhero. On this day, fans embrace their inner Clark Kent by donning superhero costumes, reading Superman comics, and watching their favorite Superman movies and TV shows. It's a day to unite the Super-fan community and showcase their love for the Man of Steel.
Did You Know?
Did you know that Clark Kent's iconic alter ego was inspired by pulp fiction heroes of the 1930s? Jerry Siegel and Joe Shuster designed Superman as a champion for the oppressed, using parts of their own childhood experiences to shape the character.
History behind the term 'Superman'
1879
Birth of Friedrich Nietzsche
Friedrich Nietzsche, a renowned German philosopher, was born in 1879. Nietzsche's work greatly influenced the concept of the 'superman' through his ideas of the Übermensch, or 'overman,' which served as a central theme in his 1883 book 'Thus Spoke Zarathustra.' The Übermensch represents an individual who surpasses traditional morality and embraces their own power and creativity.
1938
Introduction of DC Comics' Superman
In 1938, DC Comics introduced the iconic superhero character, Superman. Created by writer Jerry Siegel and artist Joe Shuster, Superman quickly became a cultural phenomenon. The character, also known as Clark Kent, possesses superhuman abilities and uses them to protect humanity from various threats. Superman's popularity skyrocketed, and he became synonymous with the idea of a powerful and virtuous hero.
1943
Debut of Superman Radio Show
The adventures of Superman expanded beyond comic books and onto the radio in 1943. The Superman Radio Show, featuring Bud Collyer as the voice of Superman, captivated audiences with its thrilling storylines and dynamic voice acting. The radio show further solidified Superman's status as a beloved cultural icon, reaching a wide audience and contributing to the superhero's growing legacy.
1978
Superman: The Movie
In 1978, the superhero genre received a significant boost with the release of 'Superman: The Movie,' directed by Richard Donner. Starring Christopher Reeve as Superman, the film showcased spectacular special effects, a compelling storyline, and Reeve's captivating portrayal of the iconic superhero. 'Superman: The Movie' marked a turning point in superhero filmmaking, paving the way for future blockbuster adaptations.
2013
Introduction of Superman in the DC Extended Universe
With the launch of the DC Extended Universe (DCEU), Superman returned to the big screen in 2013's 'Man of Steel.' Directed by Zack Snyder and featuring Henry Cavill as Superman, the film explored the superhero's origin story and presented a darker and more complex interpretation of the character. Superman's presence in the DCEU expanded the cultural impact of the term 'superman' and generated renewed interest in the iconic hero.