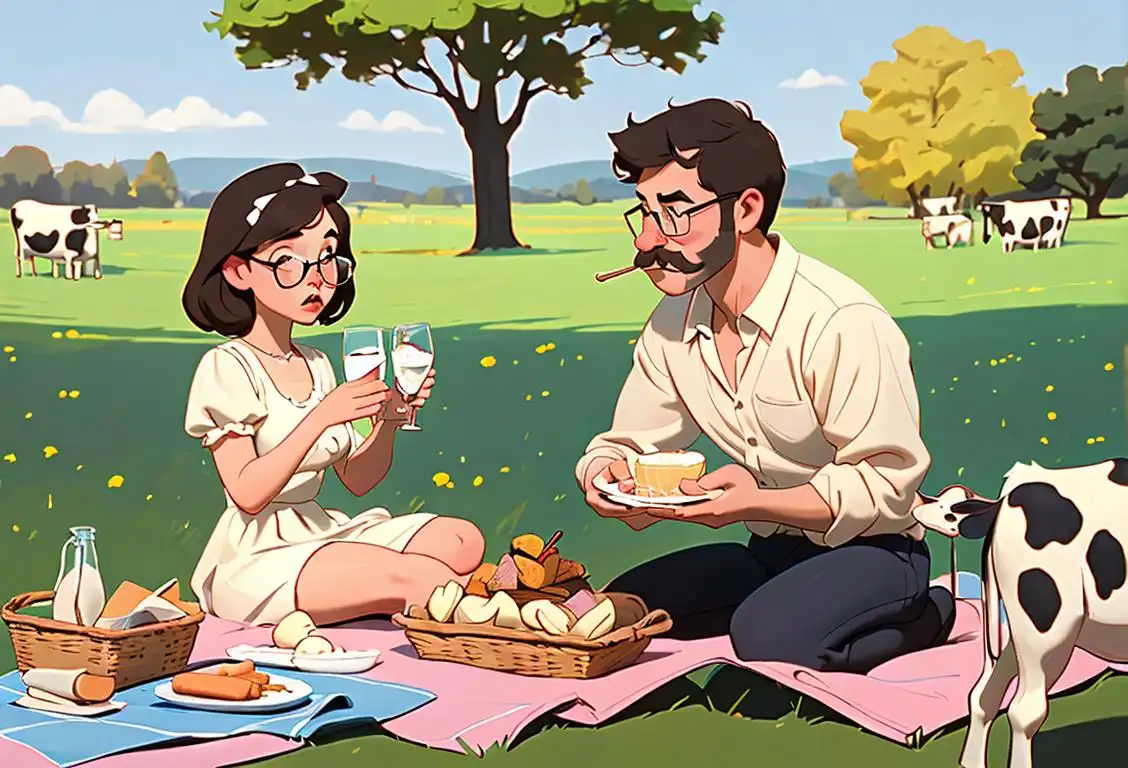 Raise your glasses, ladies and gentlemen but make sure they're filled with milk because we're about to embark on a creamy ride down the Milky Way of the internet's history of National Milk Day. So, grab that cookie and get ready to dunk into some nourishing knowledge!
When is Milk Day?
It's national milk day on the 11th January.
Unearthing The Milky History
Contrary to popular moo-th (sorry, we couldn't resist), National Milk Day is not a holiday that was lobbied for by bossy bovines. Instead, it was milk enthusiasts worldwide who made 10570 mooves (and mentions!) online to make it a reality.
Peaking at 2018, The Milky Wonder Year
This day had its moment in the limelight on 11 Jan 2018 when it was the most discussed topic online. Yes, even more than that cat video everyone couldn't stop talking about. The internet was spilling over with creamy memes, dairy puns and milkshake mix-off challenges that kept social media feeds churning happily along. Picture it: a day when the froth of enthusiasm exceeded even the froth of your morning cappuccino.
Dairy Devotion on Digital Platforms
People didn't just scratch the cream off the top, their enthusiasm ran the whole gamut of the dairy spectrum. There were lattes lovingly cradled in hands during that first sunrise Instagram post, trays of milk-laden cookies shared at office parties, recipes for all the ways you could cook with milk—all shared, liked and debated over hashtags like #CreamyGoodness and #MilkLoversUnite.
Unleashing the Power of Milk
Of course, a central thread had to be the importance of milk to health and wellbeing. The humble glass of milk took centre stage as a superstar that is jam-packed with nutrients essential for growing, glowing and going strong. Online discussions reflected its role in our daily life, from that hearty glass at breakfast to its astronomical importance in weightlifting, sports and even babies' growth spurts!
History behind the term 'Milk'
10,000 BC
The Ancient Origins
Milk has a history that stretches back thousands of years. The consumption of milk can be traced back to around 10,000 BC when humans began to domesticate animals. Archaeologists have discovered evidence of early milk consumption in ancient pottery from this time period.
4000 BC
The Rise of Dairy Culture
In ancient Mesopotamia, which is present-day Iraq, dairy farming and the consumption of milk became more prevalent. Cows and goats were the main animals used for milk production. The Sumerians, one of the earliest civilizations in Mesopotamia, even had a goddess of milk named Ninhursag.
2000 BC
Milk in Ancient Egypt
In Ancient Egypt, milk was considered a valuable commodity. It was not only consumed fresh but also used to make cheese, butter, and other dairy products. Egyptians believed that the goddess Hathor was the source of all milk and revered her as a deity associated with fertility, motherhood, and nourishment.
9th Century AD
The Arab Influence
During the Islamic Golden Age, which lasted from the 8th to the 14th centuries, Arab scholars made significant advancements in various fields, including agriculture. They introduced improved dairy farming techniques and spread the knowledge of milk processing and preservation methods.
17th Century
Pasteurization
In the 17th century, the process of pasteurization was developed by the French scientist Louis Pasteur. Pasteurization involves heating milk to kill harmful bacteria, making it safer for consumption. This innovation revolutionized the dairy industry, increasing the availability and safety of milk products.
20th Century
Mass Production and Homogenization
The 20th century saw advancements in milk production techniques, leading to mass production. As technology improved, milk could be processed, homogenized, and packaged on a large scale, making it more readily available to the general population. This era also witnessed the introduction and adoption of milk cartons.
21st Century
Milk Alternatives
As dietary preferences and health concerns have evolved, the 21st century brought about an increased demand for milk alternatives. Plant-based milks made from soy, almond, rice, and other sources gained popularity. These alternatives catered to individuals with lactose intolerance, dietary restrictions, or those seeking alternatives for environmental reasons.