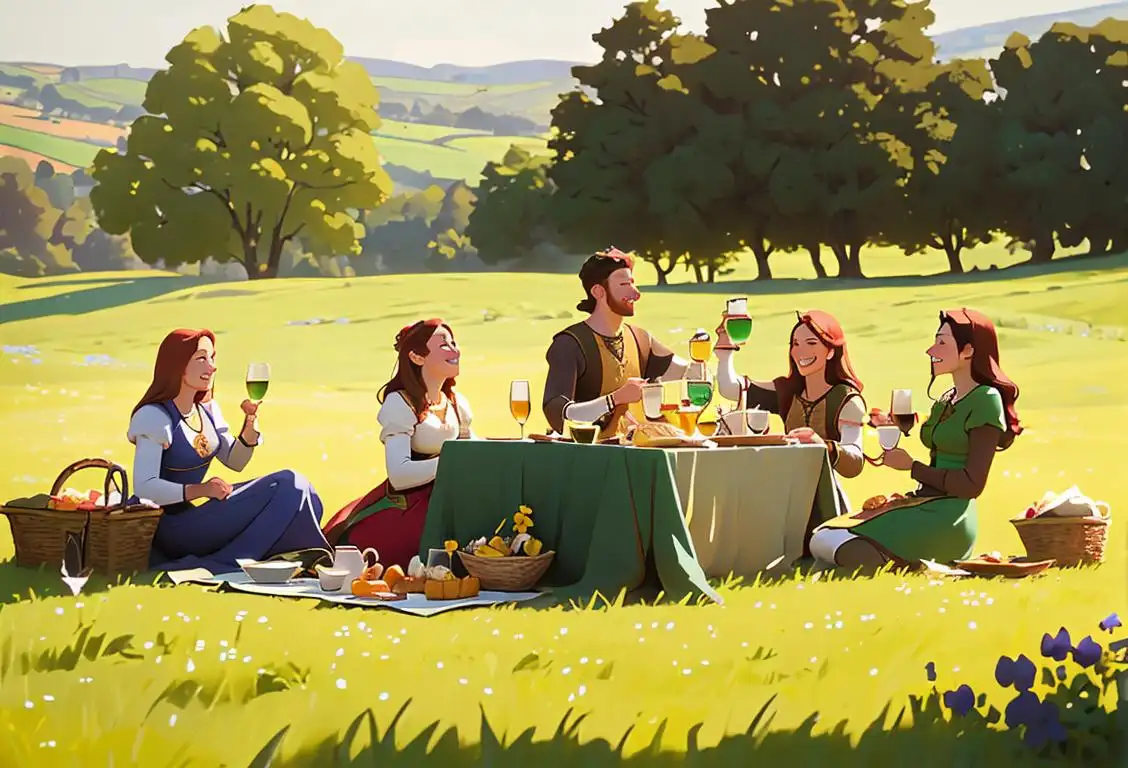 Grab your favorite mug and get ready to raise a toast because it's National Mead Day! This glorious day is dedicated to celebrating the ancient and delicious beverage known as mead. So, put on your drinking cap, gather your friends, and let's dive into the fascinating history of this honey-based elixir.
When is Mead Day?
It's national mead day on the 1st August.
The Origins of Mead
Let's travel back in time, way before the invention of breweries or distilleries. Picture this: our ancestors sitting around a crackling fire, sipping a sweet nectar. Yes, you guessed it right, they were drinking mead! Mead is one of the oldest alcoholic beverages known to humankind.
Mead is made by fermenting honey with water and often flavored with fruits, spices, grains, or hops. It has been enjoyed by various cultures throughout history, from ancient Greeks and Vikings to medieval Europeans. In fact, it was considered the drink of gods and often associated with celebrations and rituals.
The Rise and Fall
During the Middle Ages, mead was hugely popular across Europe. It was so beloved that it became the primary drink during many feasts and gatherings. However, as time went on, the art of making mead began to decline. The rise of beer and wine production took the spotlight, and mead took a back seat.
But fear not! Like a phoenix rising from the ashes, mead has experienced a resurgence in recent years. Craft meaderies have popped up all over the world, reintroducing this ancient libation to a new generation of adventurous drinkers.
Celebrating National Mead Day
Now that you know a bit about the rich history of mead, it's time to celebrate National Mead Day! Here are a few fun ways to honor this delightful beverage:
Visit a local meadery or brewery that specializes in mead. Take a tour, learn about the mead-making process, and, of course, sample their delicious concoctions.
Host a mead tasting party at home. Invite your friends and ask everyone to bring a different variety of mead. You'll get to try a wide range of flavors and find your new favorite.
Get creative in the kitchen by adding mead to your favorite recipes. From glazes to marinades, mead can add a unique flavor to your culinary creations.
Join online communities and forums dedicated to mead. Share your love for this ancient beverage with fellow enthusiasts and learn even more about the world of mead-making.
Did You Know?
Did you know that mead is often referred to as the "nectar of the gods"? In Norse mythology, it was believed that a magical mead called "Mead of Poetry" gave anyone who drank it the gift of poetic inspiration and wisdom. So, the next time you're feeling stuck, maybe a sip of mead will do the trick!