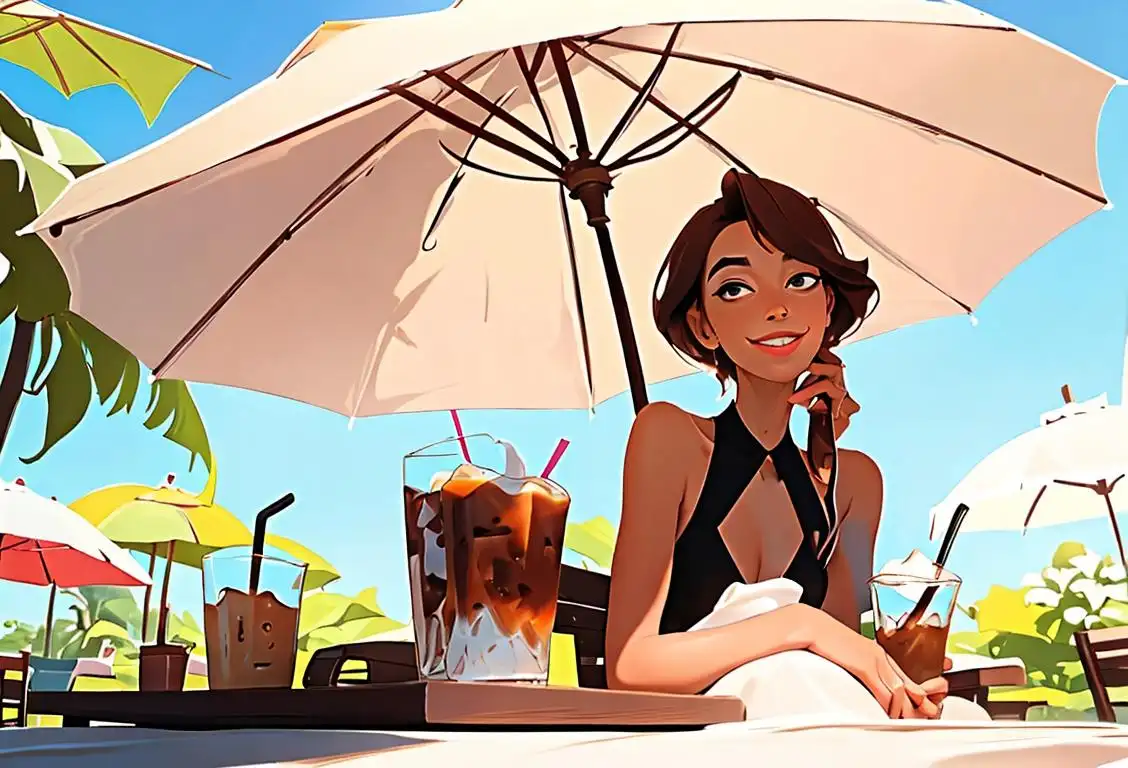 Who would have thought that in addition to the 'pour me another cup' routine, our love for java juice could boldly break breakfast boundaries and take to the realm of refreshing 'afternoonettes'? Welcome to the chilled marvel that is National Iced Coffee Day. Ah, yes. Iced coffee – that wonderous concoction that, despite leaving purist coffee aficionados shaking their heads and ranting about 'proper brewing temperature', has quietly captured our caffeine-craving hearts.
When is Iced Coffee Day?
It's national iced coffee day on the 25th May.
The Frosty Brew Ha-Ha
For decades, iced coffee was like the misunderstood middle child of the coffee family - not as easily adored as its older sibling Hot Coffee, and not as sweet as baby sibling Frappuccino. But times change, fashions evolve, and in recent years, iced coffee has gained a following that could rival any pop band's fan-base, thanks very much. On 25th May 2016, its popularity spiked to unseen heights, with a staggering 864 mentions on the internet. That's almost as huge as the number of people who think that adding a sprig of mint to their iced coffee makes it 'a cocktail'.
A Day in the Frozen Sun
National Iced Coffee Day, much like the beverage it celebrates, sat quietly in the shadows,waiting for its moment in the sun (or more appropriately, under a parasol). It's unsure when the first unofficial cup of iced coffee was raised, but it sure caught on like iced coffee on a summer day. Ever since then, each year, as summer begins its warm embrace, we celebrate this frosty beverage that helps us keep our cool.
How it's Brewed
Iced Coffee for purists isn't as simple as tossing ice cubes into a mug of hot coffee. It involves a carefully designed process to preserve the unique features of coffee – fragrance, acidity, taste, and body. The essential is brewing it cold, slowly, over time, then serving it chilled. Grab a glass, my friend, you are about to enter the iced-coffee connoisseurs league.
History behind the term 'Iced Coffee'
1840
The Birth of Iced Coffee
Iced coffee traces its origins back to the year 1840. It is believed to have originated in Algeria, North Africa, where coffee was brewed as usual and then poured over ice to create a refreshing and cool beverage. This early version of iced coffee quickly gained popularity among locals seeking respite from the scorching desert heat.
1880
Introduction to the Western World
Iced coffee made its way to the Western world in the late 19th century. It was first introduced to the United States in the 1880s during the influx of European immigrants, particularly from Italy, who brought with them their rich coffee culture. Initially, it was only available in select Italian-American communities.
1904
A Refreshing Treat at the World's Fair
The popularity of iced coffee grew significantly after it was featured at the 1904 World's Fair held in St. Louis, Missouri. Entrepreneurs serving the beverage with milk and sugar quickly caught the attention of fairgoers, leading to widespread consumption. The World's Fair marked a turning point, popularizing iced coffee throughout the United States.
1920
Iced Coffee at Home
With the advent of refrigeration technology and the availability of ice in households, iced coffee became easier to prepare at home. This development allowed people to enjoy iced coffee not just in coffee shops and specialized establishments but also in the comfort of their own homes. The increasing accessibility further contributed to its growing popularity.
1970s
Emergence of Beverage Innovations
During the 1970s, beverage innovations and the rise of coffee chains led to the introduction of various iced coffee variations. From simple iced black coffee to intricate blended concoctions with syrups and toppings, the options for enjoying iced coffee expanded greatly. This era marked the start of the extensive customization and experimentation we see with iced coffee today.
21st Century
Iced Coffee Goes Mainstream
In the 21st century, iced coffee has cemented its place as a mainstream staple in the coffee industry. It is widely available in coffee shops, fast-food chains, and grocery stores around the world. In recent years, cold brew coffee, a method of brewing coffee with cold water over an extended period, has gained popularity as a smooth and flavorful alternative to traditional iced coffee.