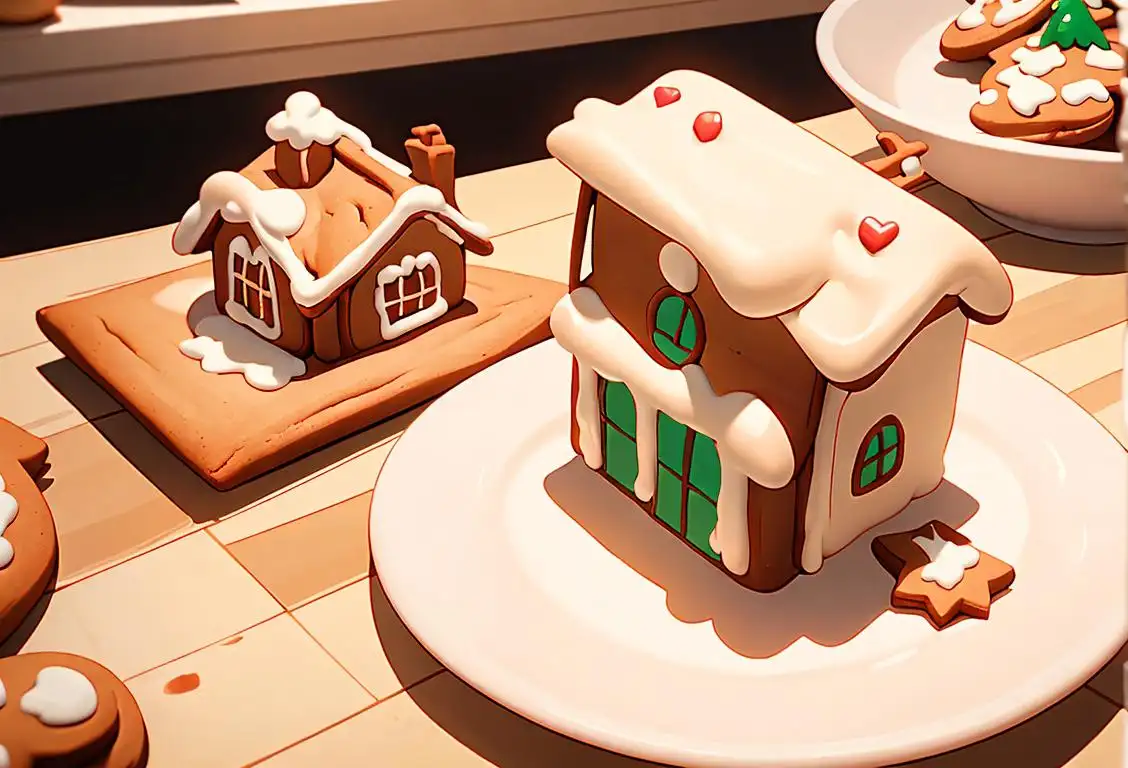 Gingerbread cookies have long been a beloved treat that brings joy and warmth to many people's lives. And guess what? There's a whole day dedicated to celebrating these tasty little creations! Welcome to National Gingerbread Cookie Day, a day full of deliciousness and holiday cheer.
When is Gingerbread Cookie Day?
It's national gingerbread cookie day on the 21st November.
The Internet History of National Gingerbread Cookie Day
Let's dive into the internet history of this delectable national day. It all began when a group of passionate bakers decided that gingerbread cookies needed a day of their own. They formed an alliance, armed with rolling pins and sprinkles, and took to the vast world of the internet to spread their love for gingerbread.
Word quickly spread, gaining momentum through mouthwatering recipe blogs, social media posts, and mouth-watering photos. Before they knew it, National Gingerbread Cookie Day became a trending topic across various online communities.
Food enthusiasts took to their keyboards to share their favorite gingerbread cookie recipes, tips for flawless icing, and stories of nostalgic moments spent baking with loved ones. Instagram feeds were flooded with gingerbread masterpieces, each one more impressive than the last. Twitter was abuzz with gingerbread puns and gingerbread-themed jokes that left everyone in stitches.
As the day gained popularity, renowned chefs and bakeries joined in on the fun. They shared their unique twists on the classic gingerbread cookie, incorporating flavors like orange zest, chocolate, and even a touch of spicy chili. The internet was abuzz with excitement, eager to try out these mouthwatering variations.
In recent years, virtual gingerbread cookie decorating contests emerged, allowing people from all around the world to showcase their creativity and compete for the coveted title of Gingerbread Cookie King or Queen. Photos and videos flooded social media platforms, captivating audiences with intricate designs and awe-inspiring decorations.
Did You Know?
Gingerbread cookies have a long history, dating back to ancient times. The tradition of making gingerbread dates back to ancient Greece and Rome, where it was often used in religious ceremonies. In fact, gingerbread was believed to have mystical powers and was used as a way to bring good luck and ward off evil spirits. Now we just use it to bring us some much-needed happiness!
History behind the term 'Gingerbread Cookie'
992
The First Recorded Gingerbread Recipe
In the year 992, the first known gingerbread recipe appeared in a cookbook written by an Armenian monk in Greece. This early version of gingerbread used a combination of ground ginger, honey, and breadcrumbs. The recipe called for rolling out the dough and cutting it into various shapes, including animals and saints.
13th Century
Gingerbread Spreads Across Europe
During the 13th century, gingerbread became increasingly popular throughout Europe. It made its way to England when Queen Elizabeth I gifted gingerbread cookies shaped like her favorite courtiers to foreign dignitaries. These cookies were intricately decorated and became a symbol of hospitality and good luck.
16th Century
Gingerbread in Germany
In the 16th century, gingerbread gained particular prominence in Germany. The city of Nuremberg became renowned for its gingerbread production and established strict guidelines and recipes for gingerbread bakers. Gingerbread cookies were often shaped into hearts and served at festivals and fairs.
17th Century
The Gingerbread Man Story
The 17th century gave rise to the famous fairy tale of the Gingerbread Man. The story, originating from Germany, propelled the popularity of gingerbread cookies shaped like little men. Their whimsical shapes and flavors captured the imagination of both children and adults.
19th Century
Decorative Gingerbread
In the 19th century, gingerbread became a centerpiece of architectural design. Elaborately decorated gingerbread houses adorned with icing, gumdrops, and candy became a Christmas tradition. The tradition stemmed from the fairy tale 'Hansel and Gretel' by the Brothers Grimm.
20th Century
Gingerbread and the Holidays
Throughout the 20th century, gingerbread cookies remained closely associated with holiday celebrations, particularly Christmas. Families baked and decorated gingerbread cookies, often hanging them on Christmas trees or giving them as gifts. Their spicy aroma and delightful taste became synonymous with holiday cheer.