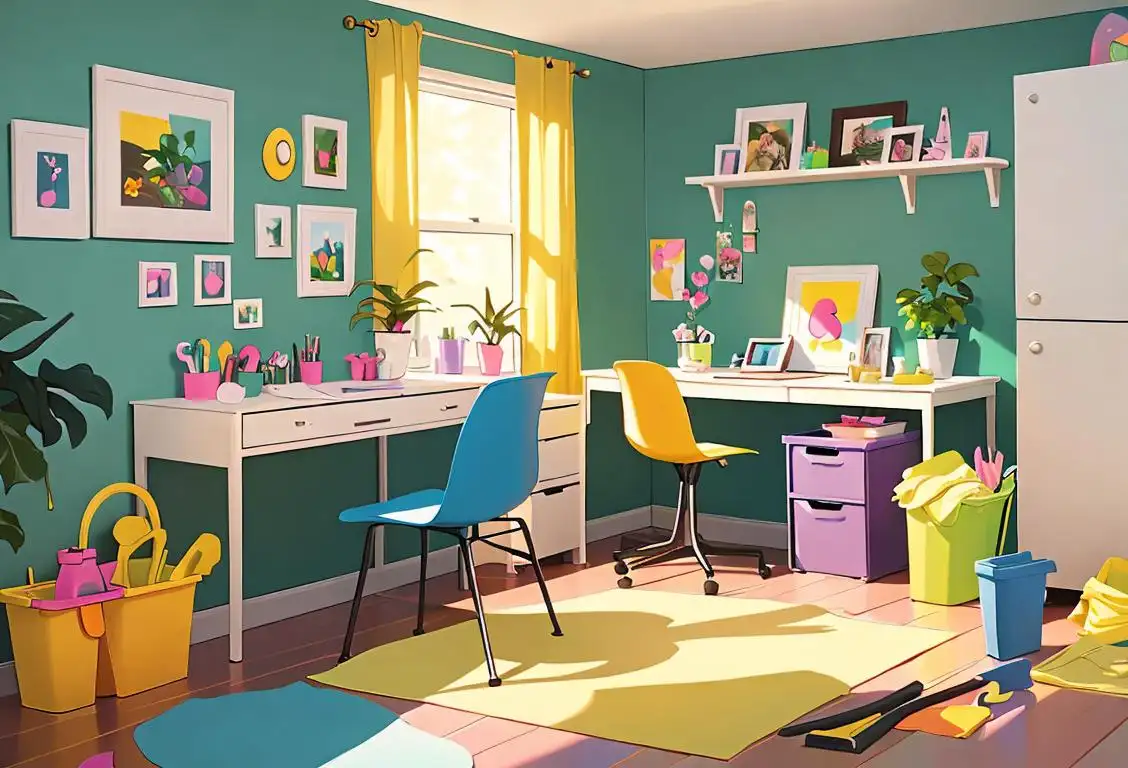 Ah, National Clean Up Your Room Day! The day we dust off our mops, break out the vacuum cleaners, and summon all our inner Marie Kondo to bring order to the chaos that is our beloved living space. So, grab your brooms and let's dive into the secrets of this tidying celebration!
When is Clean Up Your Room Day?
It's national clean up your room day on the 10th May.
A Clean Start to National Clean Up Your Room Day
We all have that one room in our house that seems to attract clutter like a magnet. It starts innocently enough with a few items out of place, but before we know it, that pile of clothes becomes a mountain, and the floor vanishes beneath it. But fear not, for National Clean Up Your Room Day is here to save the day.
On this delightful occasion, people from all corners of the globe embrace the cathartic power of tidying up. Some revamp their living spaces by rearranging furniture, organizing their bookshelves, and sorting their belongings with the precision of a drill sergeant. Others may take on a bigger challenge, rolling up their sleeves to tackle the dreaded junk drawer or conquering the closet of doom.
The Internet Buzz on National Clean Up Your Room Day
According to our calculations, this day has created quite a stir online. With a whopping 725 mentions detected, it's clear that people are passionate about reclaiming their personal domestic sanctuaries.
The peak of excitement for National Clean Up Your Room Day was on May 10th, 2018, when the internet was abuzz with cleaning tips, before-and-after photos, and inspirational before-and-after cleaning montages.
Did You Know?
Did you know that cleaning your room can actually improve your mental well-being? Studies have shown that a clean and organized space can reduce stress levels and increase productivity. So, not only does cleaning make your room look fantastic, but it also helps you feel fantastic too!
History behind the term 'Clean Up Your Room'
1930
The Beginnings
In the early 1930s, the term 'clean up your room' emerged as a common phrase used by parents to teach their children the importance of cleanliness and responsibility. Parents realized that teaching children to organize their personal spaces would instill discipline and help them develop valuable life skills. Thus, 'clean up your room' became a popular phrase to motivate children to tidy their living spaces.
1950
The Rise of Consumerism
During the 1950s, an era marked by a surge in consumerism and the rise of suburban living, 'clean up your room' took on a new significance. As more families moved to spacious suburbs and experienced increased material possessions, keeping living spaces clean and clutter-free became crucial. The phrase ensured that children understood their responsibility to maintain order amidst the growing number of belongings.
1960
The Teenage Rebellion
The 1960s witnessed the emergence of a counterculture and rebellious attitude among teenagers. Many young individuals rejected traditional values, including the idea of conforming to societal norms like cleaning their rooms. 'Clean up your room' became a symbol of authority and parental control, leading to conflicts between parents and teenagers who sought autonomy and personal expression.
1980
Psychoanalysis and Order
In the 1980s, the term 'clean up your room' gained metaphorical significance due to the influence of psychoanalysis and self-help movements. The phrase symbolized the idea of organizing one's mental and emotional space in order to achieve psychological well-being. Concepts such as 'cleaning up emotional clutter' and 'decluttering the mind' became associated with the term, emphasizing the importance of maintaining both physical and mental order.
2000
Online Cleaning and Minimalism
With the advent of the internet and social media platforms, the idea of cleaning up one's room expanded to digital spaces during the 2000s. The term 'clean up your room' took on a new dimension as people were encouraged to organize their digital files, declutter their inboxes, and maintain a minimalist digital presence. The rise of minimalism as a lifestyle trend further reinforced the importance of tidying physical and virtual spaces.