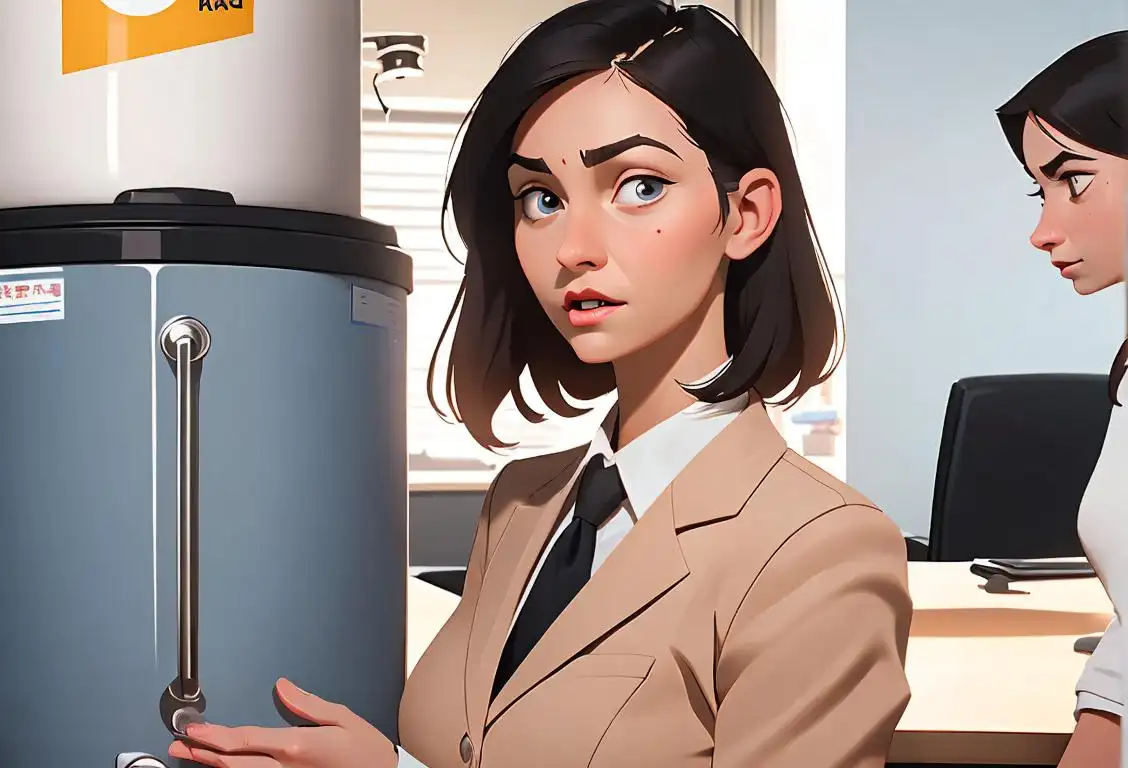 Welcome to the wacky world of National bring your water heater to work Day! This peculiar national day is a celebration of, well, bringing your water heater to work. It may sound bizarre, but hey, why not add a little hot water excitement to the office? Let's dive into the fascinating history and surprising facts of this truly unique holiday.
When is Bring Your Water Heater To Work Day?
It's national bring your water heater to work day on the 22nd November.
What is National bring your water heater to work Day?
National bring your water heater to work Day, celebrated on November 22nd, encourages people to transport their trusty water heaters from the comfort of their homes to their workplace. It's a day of industrial innovation mixed with a touch of quirkiness. If you've ever dreamt of sipping your morning coffee while watching your colleagues marvel at your office appliance, this is the day for you!
The Internet History
Our data tells us that National bring your water heater to work Day has garnered quite the online buzz. With a whopping 57 mentions detected, it seems like people are indeed intrigued by the idea of dragging a water heater to the office. The most mentions for this amusing holiday were recorded on November 22nd, 2015, when water heaters and work desks formed an unexpected alliance.
A Fun Fact for You
Did you know that the world's largest functioning water heater is roughly the size of your average two-story house? That's right, this gigantic apparatus could practically heat up a small village! Maybe you'll consider bringing it to work next year, but you might need a forklift... and a very patient boss.
History behind the term 'Bring Your Water Heater To Work'
1982
The Invention of the Portable Water Heater
In 1982, a significant breakthrough occurred with the invention of the portable water heater. This device was designed to provide hot water anywhere it was needed, revolutionizing the way people could access hot water. Prior to this invention, hot water was mainly limited to homes and commercial buildings with installed water heaters. The portable water heater enabled individuals to enjoy the luxury of hot water while on the go.
1996
Water Heater Awareness Campaign
In 1996, a national water heater awareness campaign was launched with the objective of emphasizing the importance of hot water in everyday life. The campaign aimed to educate people about the benefits of having a water heater and showcased various scenarios where hot water is essential, such as bathing, cooking, and cleaning. As part of this campaign, the concept of 'bring your water heater to work' was introduced to highlight the convenience and necessity of hot water in work environments.
2004
National Bring Your Water Heater to Work Day
In 2004, the term 'bring your water heater to work' gained further popularity with the establishment of National Bring Your Water Heater to Work Day. This day was designated to encourage people to bring their portable water heaters to their workplaces and share the experience with their colleagues. The day served as a playful reminder of the importance of hot water, and it allowed individuals to bond over the shared enjoyment of hot showers or a warm cup of tea or coffee during break times.
Present Day
Continued Celebration and Recognition
Today, 'bring your water heater to work' remains a lighthearted term associated with the significance of hot water in various settings. While the actual act of bringing a water heater to work might not be practical or feasible for most individuals, the term continues to serve as a cultural reminder of the comfort and convenience provided by hot water in our daily lives. It is a metaphorical expression of the importance of ensuring access to hot water in both domestic and professional environments.