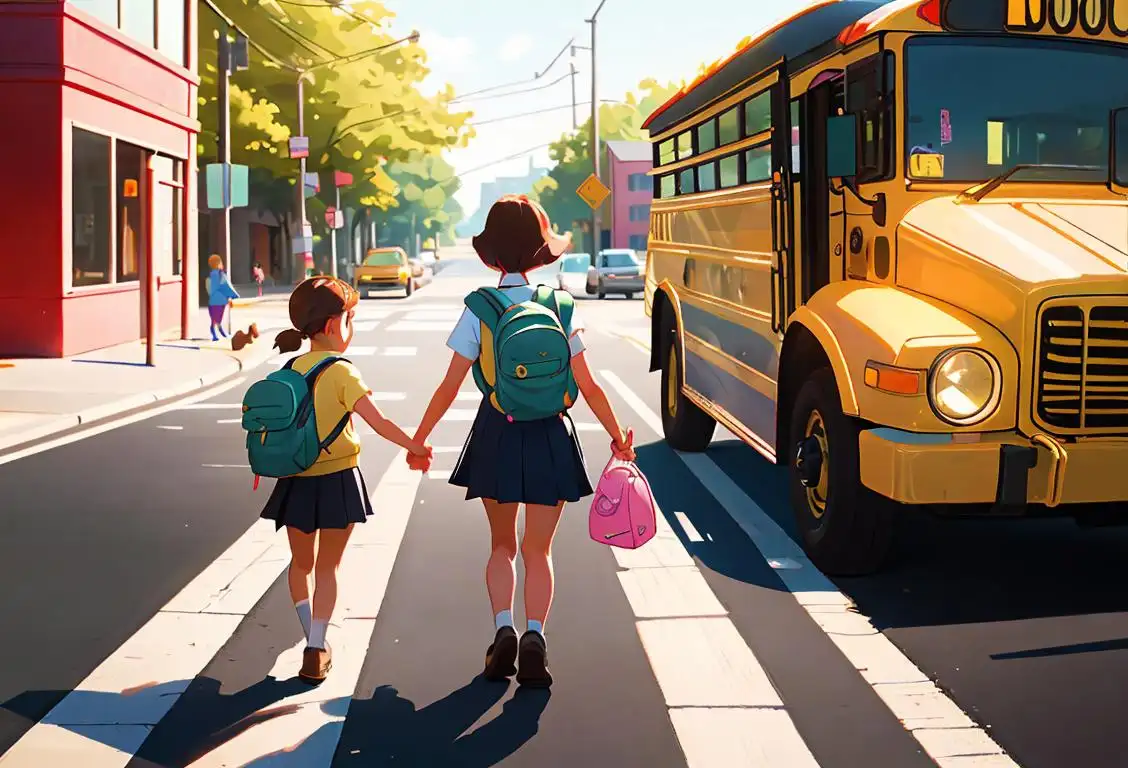 Hey, tie up those laces tight! It's National Walk to School Day. A day when little sneakers across the nation hop, skip, and jump all the way to school. And, guess what? It's not just about those extra steps you clock, it's about community, health, and a whole lot of fun!
When is Walk To School Day?
It's national walk to school day on the 7th October.
Rise n' Shine for a Walk
National Walk to School Day, as most people might imagine, is a day where kids (and often their parents) leave the car keys at home and lace up their walking shoes for a good old-fashioned trek to school. This fantastic day came into existence in the mid-90s as part of a growing global movement to promote active living and safe pedestrian routes. Our analyses at WhatNationalDayIsIt.com have picked up a whopping 6080 mentions online. The day stole the limelight on October 7, 2015, with the most mentions.
A Step Towards Health and Community
While the day may seem like a nostalgic nod to simpler times, it holds a dual purpose. On one hand, it promotes physical health in children, battling the ever-growing trend of childhood obesity. On the other, it encourages strong community ties and displays a united front for the need for safer walking routes.
Turns Out, Fun is Just a Walk Away!
From creating morning walking groups to enjoying organized events at school once the stride is complete, the day is rife with community spirit and camaraderie. Safe to say, with National Walk to School Day, fun is just a walk away!
History behind the term 'Walk To School'
1969
The Seed is Planted
The term 'walk to school' first gains prominence in 1969 when the U.S. Department of Transportation, along with other organizations, launched Walk to School Day. This event aimed to encourage students to walk instead of using motorized transportation to reach their schools, promoting a healthier lifestyle while reducing traffic congestion and pollution. The initiative gained immediate attention and sparked discussions about the benefits of walking and the potential impact on communities.
1997
Formation of International Walk to School Day
Building upon the success of the initial Walk to School Day, the concept evolved into International Walk to School Day in 1997. The event, held annually on the first Wednesday of October, expanded its reach to include schools from around the world. By advocating for safer walking routes and pedestrian infrastructure, International Walk to School Day aimed to address the global issue of decreased physical activity among children and promote the importance of active transportation.
2000
Walk to School Programs
In the early 2000s, various countries began implementing formal Walk to School programs. These programs not only focused on the annual event but also aimed to establish long-term initiatives promoting walking and cycling to school as a regular habit. They worked alongside city planners, transportation departments, schools, and parents to improve infrastructure, raise awareness, and create safe walking routes for students. The programs often involved educational campaigns that highlighted the benefits of physical activity and instilled a sense of community engagement.
2011
National Walk to School Day in the United States
Recognizing the significance of promoting active transportation, the United States officially designated the first Wednesday of October as National Walk to School Day in 2011. With the support of organizations like Safe Routes to School, advocacy for walking to school gained further traction. Benefits such as increased physical fitness, decreased traffic congestion, improved air quality, and enhanced pedestrian safety were regularly emphasized during the annual event, motivating more schools and families to participate.
Present
Continued Evolution and Implementation
The term 'walk to school' has become a recognizable phrase worldwide, representing a multifaceted approach to encourage active transportation and promote healthier communities. Efforts to enhance pedestrian infrastructure, develop safe routes to schools, and educate communities about the benefits of walking and cycling continue to this day. Walk to School events and programs have expanded to encompass other initiatives like Bike to School Day, further emphasizing the importance of physical activity and sustainable modes of transportation for school-aged children.