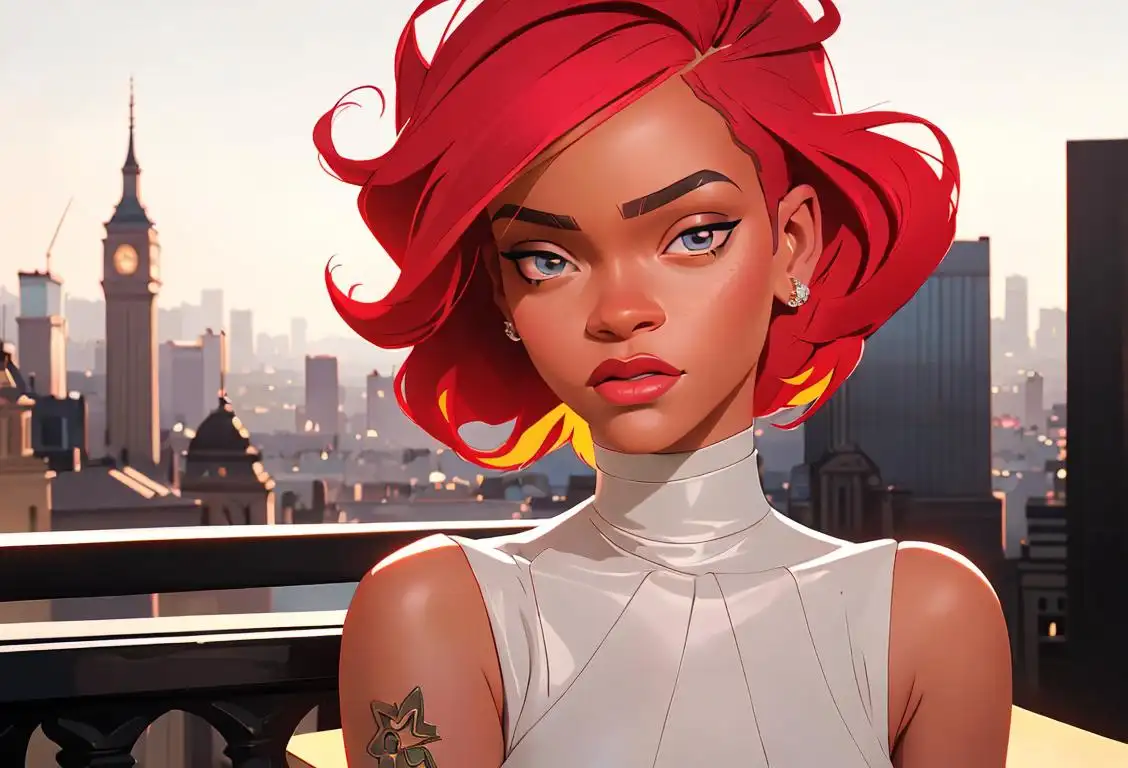 Welcome to the fabulous world of National Rihanna Day! This is the day where we honor the reigning queen of pop herself, Rihanna. Get ready to shine bright like a diamond as we dive into the internet history of this sensational day.
When is Rihanna Day?
It's national rihanna day on the 20th February.
The Birth of a Pop Icon
On National Rihanna Day, we celebrate the incomparable talent and global influence of the one and only Rihanna. Born Robyn Rihanna Fenty on February 20th, 1988, in Saint Michael, Barbados, Rihanna rose to fame with her captivating vocals and mesmerizing performances.
From her early hits like 'Pon de Replay' and 'SOS' to chart-toppers like 'Umbrella' and 'Diamonds,' Rihanna's music has dominated the airwaves and our hearts for over a decade. But her impact extends far beyond the world of music.
An Iconic Fashion Queen
Rihanna's influence in the fashion industry is undeniable. With her daring fashion choices and boundary-pushing style, she has become a fashion icon. Whether it's on the red carpet, at fashion shows, or in her own Fenty clothing line, Rihanna continues to set trends and inspire millions around the world.
Humanitarian and Entrepreneur
While Rihanna's talent and fashion sense are awe-inspiring, her philanthropic endeavors are equally commendable. She has used her platform to advocate for various causes, including education, disaster relief, and healthcare. Through her Clara Lionel Foundation, she has made a lasting impact on communities in need.
Not only is Rihanna a role model for her humanitarian work, but she is also a successful entrepreneur. Her entrepreneurial ventures include Fenty Beauty, a groundbreaking cosmetics brand known for its inclusive range of shades, and Savage X Fenty, a lingerie line celebrating body positivity and diversity.
Celebrate National Rihanna Day
On National Rihanna Day, it's time to unleash your inner RiRi! Blast her songs, dance like nobody's watching, and embrace your own unique style. Feel the empowerment, confidence, and talent that Rihanna embodies.
Join the online conversations using the hashtags #NationalRihannaDay and #ShineBrightLikeRihanna. Share your favorite Rihanna moments, songs, and fashion looks with fellow fans around the world.
History behind the term 'Rihanna'
2005
Entertainment Debut
In 2005, a talented young singer from Barbados named Robyn Rihanna Fenty burst onto the music scene. She quickly gained recognition for her powerful vocals and unique sense of style. Her debut single 'Pon de Replay' became an instant hit and marked the beginning of her successful career in the entertainment industry.
2007
Breakthrough Success
In 2007, Rihanna released her third studio album 'Good Girl Gone Bad,' which propelled her to international stardom. The album featured several chart-topping singles, including 'Umbrella' featuring Jay-Z. Rihanna's distinctive voice, combined with her daring fashion choices and charismatic stage presence, captivated audiences worldwide.
2009
Influence and Entrepreneurship
By 2009, Rihanna had solidified her position as a cultural icon. Beyond her music career, she delved into various ventures, including fashion and beauty. In collaboration with notable brands, she launched her own successful makeup line, Fenty Beauty, which garnered praise for its inclusive range of products catered to diverse skin tones. Rihanna's influence extended beyond the entertainment industry and into the world of fashion and entrepreneurship.
2017
Philanthropic Endeavors
In 2017, Rihanna further showcased her impact by establishing the Clara Lionel Foundation (CLF). The foundation supports and funds groundbreaking education and emergency response programs worldwide. Through CLF, Rihanna has made significant contributions to various causes, including improving access to quality education, promoting healthcare, and aiding disaster relief efforts in vulnerable communities.
2021
Continued Success and Enduring Legacy
As of 2021, Rihanna's influence remains undeniable. Her continued success as a musician and entrepreneur has solidified her place in pop culture history. Beyond her music and business endeavors, she has also been recognized for her advocacy on social and humanitarian issues. Rihanna's impact reaches far beyond her music, making her a revered figure admired for her talent, innovation, and commitment to positive change.