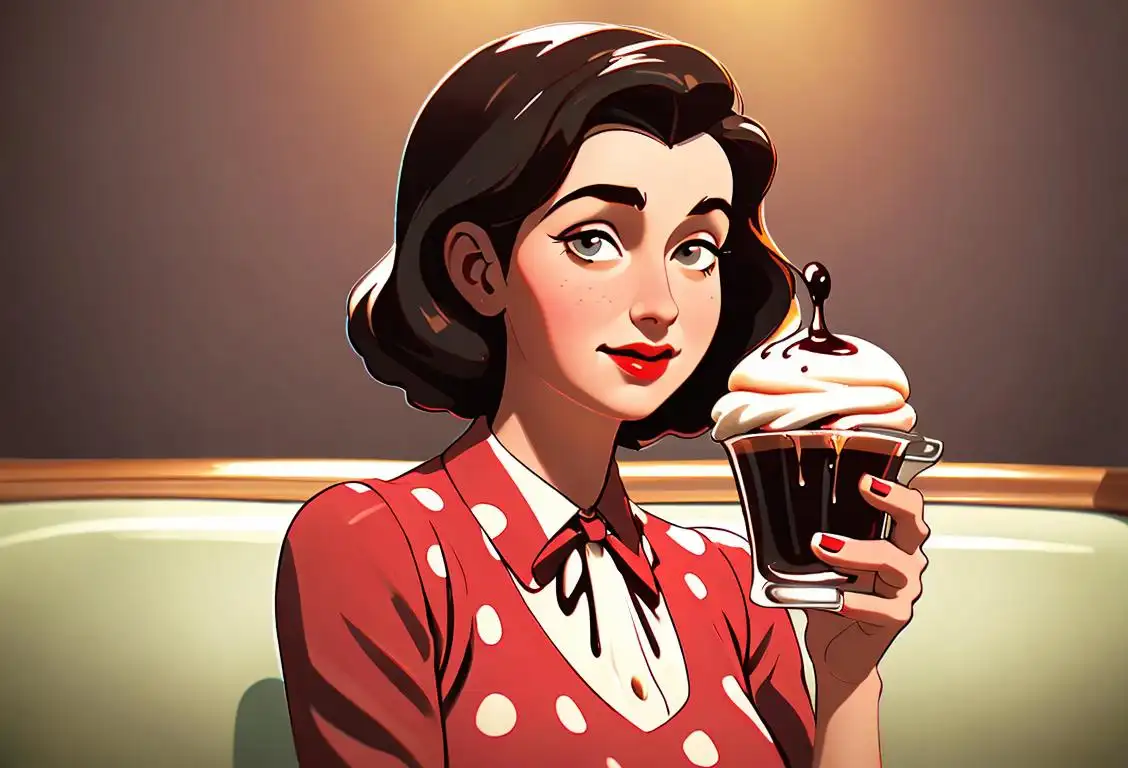 Hey there, hot fudge enthusiasts! Get ready to indulge in the scrumptious sweetness of National Hot Fudge Day! This delightful day celebrates the rich and velvety goodness that is hot fudge. So, grab a spoon, a scoop of ice cream, and let's dive into the decadence of this chocolaty treat!
When is Hot Fudge Day?
It's national hot fudge day on the 25th July.
The Origins of National Hot Fudge Day
While we couldn't find an exact date when this delicious day was first celebrated, we uncovered some interesting online mentions about National Hot Fudge Day. With 57 documented references, the peak seemed to be on July 25, 2017. But hey, does it really matter when it started? As long as we have hot fudge, we can celebrate any day!
Hot Fudge Goes Digital
Hot fudge has come a long way from being just a delicious topping for ice cream. The internet has played a significant role in popularizing this delectable treat. From mouth-watering recipes shared on food blogs to viral videos of people drizzling hot fudge on their favorite desserts, the online world has helped hot fudge gain a special place in our hearts and stomachs!
Hot Fudge History on a Sugar High
The history of hot fudge sauce is as rich as the sauce itself! Legend has it that a chef accidentally created hot fudge when he was trying to make chocolate candy. The mixture solidified, but instead of throwing it away, the inventive chef decided to serve it over ice cream. And voila! Hot fudge sauce was born!
Since then, hot fudge has become a staple in ice cream parlors and homes around the world. People have been pouring this heavenly concoction over sundaes, cakes, and even pancakes (because why should breakfast miss out on all the fun?).
Hot Fudge Fun Fact
Did you know that hot fudge can be more than just a topping? In some parts of the world, hot fudge is used as a delicious dip for churros! Imagine the warm cinnamon-sugar goodness being dipped into a thick, gooey pool of hot fudge. It's a match made in dessert heaven!
History behind the term 'Hot Fudge'
1906
The Invention of Hot Fudge Sauce
Hot fudge sauce was invented in 1906 by Clarence Clifton Brown at C.C. Brown's ice cream parlor in Los Angeles. Brown initially created the sauce to be a topping for ice cream sundaes, aiming to enhance the dessert with a rich and indulgent flavor. He experimented with various ingredients, including chocolate, butter, and sugar, until he achieved the perfect combination that became known as hot fudge sauce.
1919
Popularization of Hot Fudge Sundaes
Hot fudge sauce gained widespread popularity when C.C. Brown's ice cream parlor began serving hot fudge sundaes. These sundaes featured a scoop or two of ice cream topped with a generous pour of warm hot fudge sauce, whipped cream, nuts, and a cherry. The indulgent nature of hot fudge sundaes quickly made them a favorite among ice cream lovers, not only in Los Angeles but also across the United States.
1921
The Creation of Hot Fudge Brownie Sundaes
In 1921, a variation of the hot fudge sundae emerged with the introduction of hot fudge brownie sundaes. Brownies were baked and then topped with vanilla ice cream, hot fudge sauce, whipped cream, and nuts. This decadent dessert quickly became a classic and expanded the popularity of hot fudge as a versatile topping for more than just ice cream.
Mid-20th Century
Hot Fudge Sauce in Popular Culture
Hot fudge sauce became a staple in American dessert culture during the mid-20th century. It was often featured in advertisements, recipe books, and popular media. The versatility of hot fudge as a topping for ice cream, brownies, cakes, and other sweets made it a beloved treat among people of all ages. The phrase 'hot fudge' became synonymous with indulgence and decadence.
Present Day
Hot Fudge as a Classic Dessert Topping
Hot fudge sauce remains a beloved and widely used dessert topping to this day. It can be found in ice cream parlors, bakeries, and homes around the world. Hot fudge continues to evoke a sense of nostalgia and comfort, reminding people of the classic treats they enjoyed in their youth. Whether drizzled over a simple scoop of vanilla ice cream or used to create elaborate sundaes, hot fudge sauce is a timeless favorite.