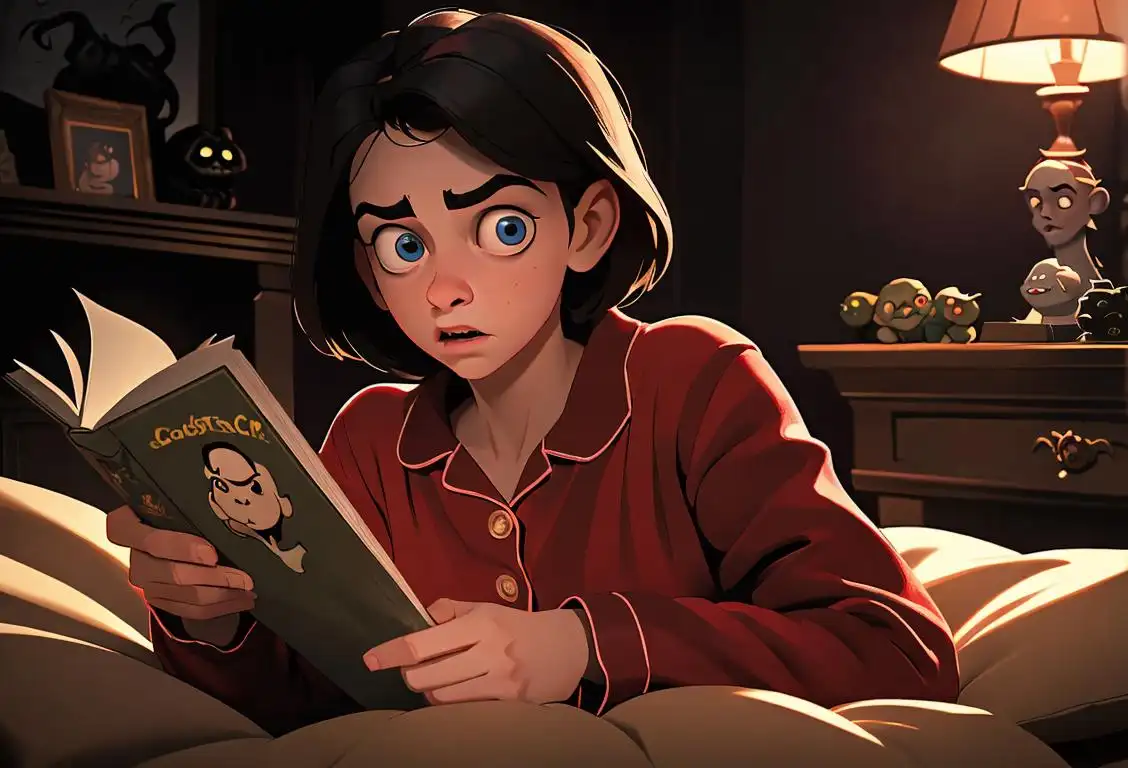 Welcome to WhatNationalDayIsIt.com! Today we are diving into the weird and wonderful world of National Goosebumps Day. So grab your blanket, turn off the lights, and prepare to be deliciously spooked!
When is Goosebumps Day?
It's national goosebumps day on the 1st June.
The Origins of National Goosebumps Day
Every year on June 1st, we celebrate National Goosebumps Day, a day dedicated to all things thrilling and chilling. But how did this spine-tingling day come to be? Well, it all started when a group of horror enthusiasts decided to pay homage to R.L. Stine, the mastermind behind the popular 'Goosebumps' book series.
These captivating stories, filled with monsters, ghosts, and all things that go bump in the night, captured the imaginations of children and adults alike. The Goosebumps books became a phenomenon, selling millions of copies worldwide and even inspiring a television series and feature film adaptation.
To honor the lasting impact of R.L. Stine's work, National Goosebumps Day was born. It's a day to relive the heart-pounding moments and embrace the thrill of being scared.
How to Celebrate
So, how can you join in on the spooky festivities? Here are a few suggestions:
Grab a stack of Goosebumps books and spend the day getting lost in their creepy pages. Just don't read them before bedtime... unless you want sleepless nights!
Host a scary movie marathon with friends and family. Pop some popcorn, turn down the lights, and prepare for some serious goosebumps.
Visit a haunted house attraction if you're feeling brave enough. Face your fears and see if you can make it through the night without screaming!
Get creative and channel your inner R.L. Stine by writing your own spooky story. Who knows, you might just be the next master of horror!
Did You Know?
Did you know that the term 'goosebumps' is actually a reference to the physical reaction our body has when we're scared or cold? Goosebumps are caused by tiny muscles called arrector pili contracting, causing the hair on our arms and legs to stand on end. It's a natural response that dates back to our ancestors, who would puff up their hair when they felt threatened to appear larger and more intimidating.
History behind the term 'Goosebumps'
1803
The Origin
The term 'goosebumps' originated in 1803 and referred to the bumps that appear on the skin of a plucked goose. These bumps are caused by the contraction of the skin muscles, often due to cold or fear.
1984
R. L. Stine's Goosebumps
In 1984, R. L. Stine released his first book in the 'Goosebumps' series, aimed at young readers. The horror fiction series quickly gained popularity and became a cultural phenomenon, captivating readers with its thrilling and suspenseful stories.
1995
Goosebumps TV Series
In 1995, a television series based on R. L. Stine's 'Goosebumps' books debuted. The show brought the spooky stories to life, further cementing the term 'goosebumps' in popular culture. The series became a hit among kids and teens.
2005
Goosebumps Movie
The 'Goosebumps' movie, released in 2005, thrilled audiences with its mix of horror, humor, and nostalgia. Starring Jack Black as R. L. Stine himself, the movie introduced a new generation to the term 'goosebumps' and reignited interest in the beloved book series.
Today
Cultural Impact
Today, the term 'goosebumps' has become a common expression used to describe the sensation of tingling and raised hair on the skin, typically caused by fear, excitement, or an emotional response. It has permeated popular culture, appearing in music, literature, and everyday conversations.