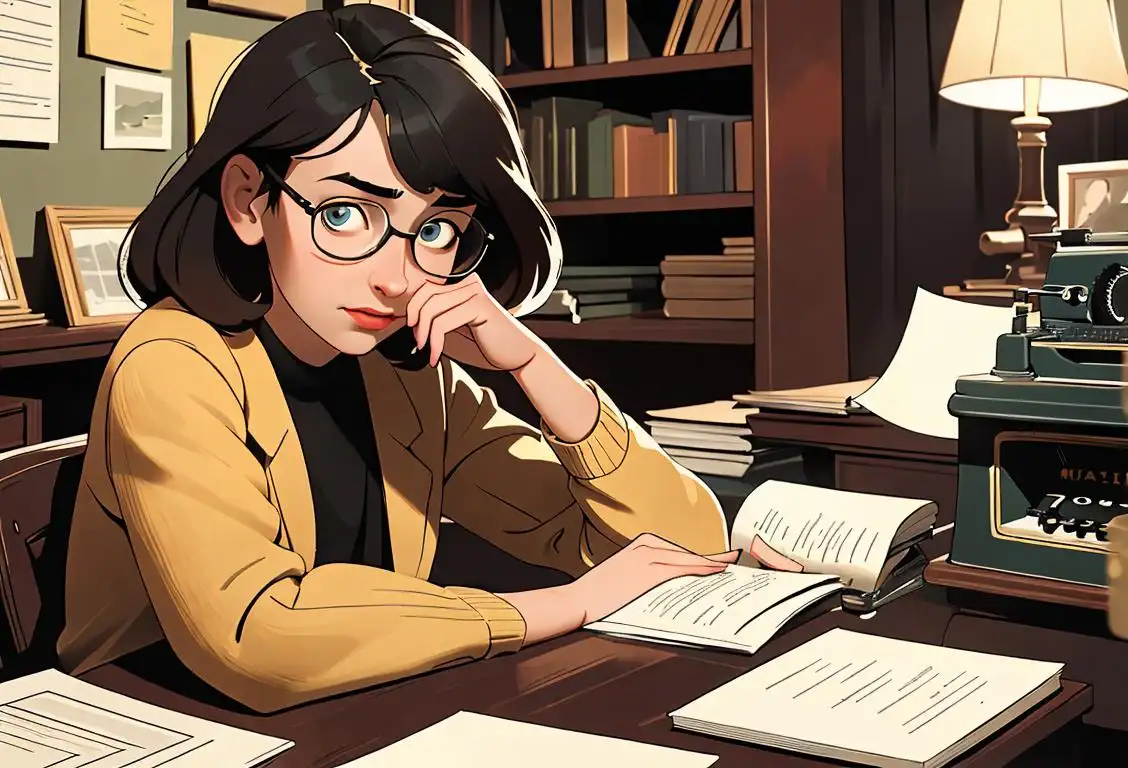 Welcome to WhatNationalDayIsIt.com, your go-to source for all things national day related! Today, we're here to celebrate and encourage a young writer on this wonderful National Encourage a Young Writer Day.
When is Encourage A Young Writer Day?
It's national encourage a young writer day on the 10th April.
The Internet History of National Encourage a Young Writer Day
Writing is a beautiful form of expression that has the power to captivate hearts and minds. Whether it be through poetry, novels, or short stories, writers have the ability to transport us to new worlds and ignite our imagination.
National Encourage a Young Writer Day, also known as NEAYWD (quite the mouthful, we know), was created to inspire and support the next generation of literary geniuses. It's a day dedicated to showing young writers that their stories matter and encouraging them to keep honing their craft.
On April 10th, 2015, National Encourage a Young Writer Day gained significant momentum online, with a whopping 700 mentions across various platforms. It became a trending topic, with writers and bookworms alike uniting to celebrate the power of words.
How to Celebrate National Encourage a Young Writer Day
Celebrating National Encourage a Young Writer Day is as simple as showing your support and appreciation for budding wordsmiths. Here are a few ideas to get you started:
Leave encouraging comments on young writers' blogs or social media pages. Let them know their work touched your heart or made you smile.
Share your favorite books or authors with the young writers in your life. Inspire them to explore different genres and writing styles.
Host a writing workshop or create a writing club at your local community center or school. Foster a supportive environment where young writers can learn from one another's experiences.
Did You Know?
Did you know that J.K. Rowling, the brilliant mind behind the Harry Potter series, started writing her first novel as a struggling single mother? She faced countless rejections before finally finding a publisher who believed in her magical world. Today, her books have sold over 500 million copies worldwide!
History behind the term 'Encourage A Young Writer'
1800s
The emergence of publishing houses
During the 1800s, there was a significant rise in the number of publishing houses. This expansion allowed for the production of books and literature to increase, opening doors for aspiring writers.
1800
Emergence of the Literary Movement
In the 19th century, a literary movement known as Romanticism gained prominence, emphasizing individualism, imagination, and emotions. This movement played a significant role in encouraging young writers to express themselves and their unique perspectives through writing.
1920s
The recognition of young talent
In the 1920s, there was a growing awareness and recognition of the importance of nurturing and encouraging young writers. Literary organizations and institutions began to actively support and promote the work of aspiring authors.
1923
The Birth of Writing Competitions
In 1923, the first national writing competition, known as the Pulitzer Prizes, was established in the United States. This prestigious award not only recognized accomplished writers but also provided inspiration and encouragement for emerging young writers to develop and showcase their skills.
1944
Launch of Scholastic Art & Writing Awards
The year 1944 marked a significant milestone with the launch of the Scholastic Art & Writing Awards. This prestigious program aimed to recognize and encourage young talent by offering scholarships and opportunities for young writers to showcase their work.
1960
The Power of Mentoring
During the 1960s, the concept of mentoring began to gain traction. Established writers recognized the importance of nurturing young talent and started mentoring aspiring writers. This mentorship not only provided guidance but also helped foster confidence and encouraged young writers to pursue their passion.
1968
National Day of Encouragement of Young Writers
In 1968, the National Day of Encouragement of Young Writers was officially established. This special day was designated to inspire and support young writers, creating awareness around the importance of their voices and creative contributions.
1990
Online Writing Communities
With the advent of the internet in the 1990s, online writing communities started to emerge. Websites and forums dedicated to writing became increasingly popular, offering young writers a platform to connect with like-minded individuals, share their work, receive feedback, and find support and encouragement from a global community.
1997
Rise of online writing communities
With the advent of the internet, the late 1990s witnessed a surge in online writing communities. Platforms like Wattpad and FictionPress allowed young writers to easily share their work, receive feedback, and connect with fellow writers from around the world.
2009
Youth Writing Programs
In 2009, various organizations and institutions recognized the need for tailored programs to encourage young writers. Youth writing programs were established in schools, libraries, and community centers, providing workshops, contests, and opportunities for young writers to hone their craft, receive guidance, and showcase their talents.
Present Day
Continued support for young writers
Today, there are numerous initiatives, workshops, and mentorship programs dedicated to encouraging and empowering young writers. Schools, libraries, and literary organizations continue to play a vital role in nurturing literary talent, emphasizing the importance of storytelling and creativity.
Present
Digital Platforms and Social Media
Today, digital platforms and social media play a crucial role in encouraging young writers. Blogs, online publications, and social networking sites allow aspiring writers to share their work with a vast audience, create connections, and gain valuable exposure. This digital landscape continues to pave the way for young writers to find their voice and be encouraged in their creative endeavors.