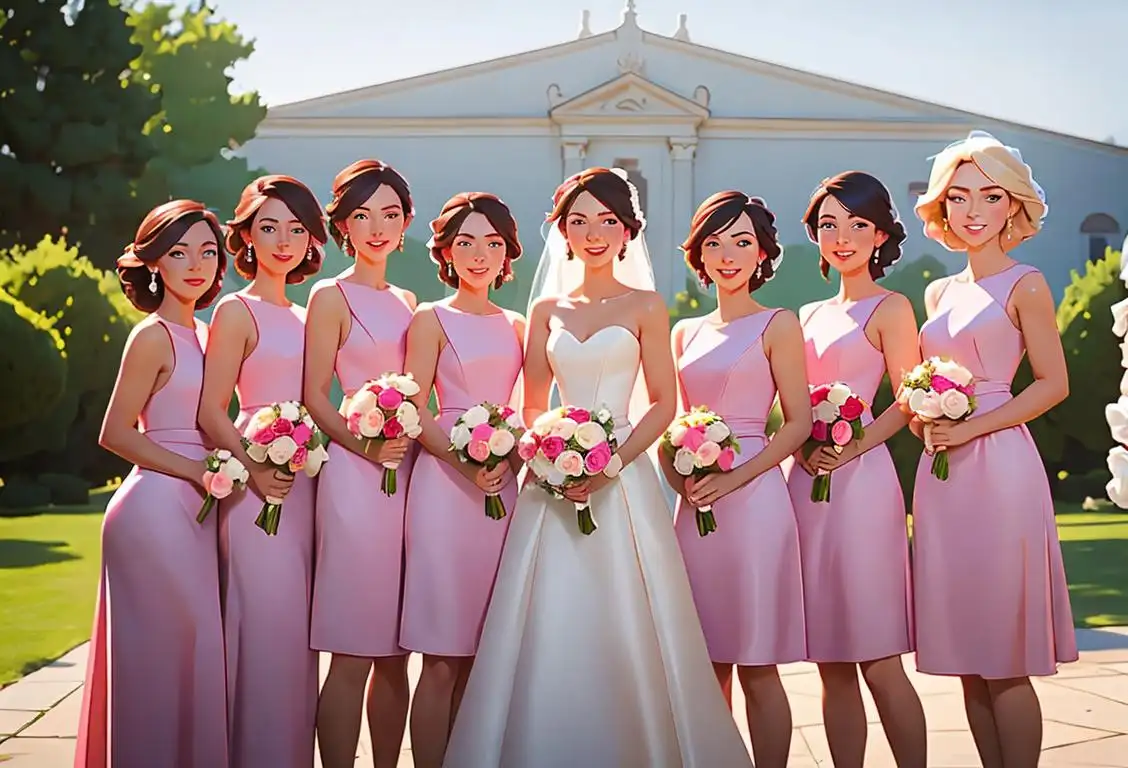 Are you ready to celebrate the unsung heroes of every wedding? It's National Bridesmaids Day, a special day dedicated to those wonderful friends who stand by the bride's side and make her big day extra special.
When is Bridesmaids Day?
It's national bridesmaids day on the 25th March.
The Internet History of National Bridesmaids Day
From the moment a girl says 'yes' to being a bride, she starts dreaming about the perfect wedding. And what's a perfect wedding without the perfect bridesmaids? These lovely ladies play a crucial role in the whole wedding extravaganza, supporting the bride emotionally, helping her with wedding preparations, and making sure that everything runs smoothly on her special day.
But how did National Bridesmaids Day come into existence? Let me take you on a stroll through the internet archives to uncover the origins of this delightful celebration.
In the vast and vibrant world of the internet, the very first mention of National Bridesmaids Day dates back to March 25, 2015. As wedding fever swept the online platforms, people started recognizing the importance of bridesmaids and their contribution to weddings. Social media was flooded with heartfelt tributes, beautiful photos, and touching stories about the incredible bond between brides and their besties.
The recognition given to bridesmaids on March 25, 2015, sparked a nationwide interest, and the popularity of National Bridesmaids Day soared. Every year since, on this very day, people have been celebrating the selflessness, love, and friendship that bridesmaids bring to the table.
A Day to Celebrate Bridesmaids Everywhere
National Bridesmaids Day is all about showing gratitude and appreciation to these amazing ladies who make the wedding day even more magical. So, how can you honor your bridesmaids on this special day? Here are a few ideas:
Write heartfelt thank-you notes to your bridesmaids, expressing your love and appreciation for their support.
Organize a bridesmaid-themed virtual get-together, filled with laughter, memories, and a toast to your friendship.
Pamper your bridesmaids with a spa day or a fun-filled outing to thank them for being with you every step of the way.
Create personalized gifts or bridesmaid care packages, filled with goodies and love.
Share stories and photos on social media using #NationalBridesmaidsDay, and let the world know how lucky you are to have your amazing bridesmaids by your side.
Did You Know?
Did you know that the tradition of having bridesmaids dates back to ancient Rome? The purpose of bridesmaids in ancient times was to confuse evil spirits by dressing similarly to the bride, thus protecting her from any ill fortune. Thankfully, bridesmaids no longer need to ward off evil spirits, but they still play a vital role in ensuring everything goes smoothly on the wedding day!
History behind the term 'Bridesmaids'
15th century
Origins of Bridesmaids
During the 15th century, the term 'bridesmaid' originated as a combination of two separate words: 'bride' and 'maid.' The word 'bride' refers to the woman who is getting married, while 'maid' signifies a young unmarried woman. Bridesmaids were chosen from the bride's close circle of unmarried female friends or relatives to support her and help with wedding preparations.
Ancient Rome
Historical Bridesmaids in Ancient Rome
The concept of bridesmaids can be traced back to ancient Rome. In Roman times, bridesmaids played a vital role in protecting the bride from evil spirits. They dressed similarly to the bride to confuse any ill-intentioned spirits and acted as a shield, ensuring the bride's safety throughout the wedding ceremony.
19th century
Bridesmaids as Decorative Accents
By the 19th century, bridesmaids began to serve a more decorative purpose in weddings. They wore matching outfits to enhance the overall aesthetic of the wedding party. Additionally, bridesmaids helped to provide emotional support for the bride during what can be a stressful time leading up to the wedding day.
20th century
Bridesmaids in Modern Culture
During the 20th century, bridesmaids became integral to the modern wedding tradition as we know it today. They assist the bride on her wedding day, helping her with various tasks such as dressing, arranging the train of her gown, holding her bouquet, and standing alongside her during the ceremony. Bridesmaids also participate in pre-wedding events like bridal showers and bachelorette parties, providing continued support and celebration for the bride-to-be.